What do you serve with ceviche? This flavorful food can easily be enjoyed as it is. However, if you want to spice it up a little,  you can add another layer of flavor and texture by pairing ceviche with different side dishes.
When looking for a side dish, go for variations and don't repeat the type of seafood. Don't serve grilled shrimp if you're going for a shrimp ceviche. 
Learn to balance the acidity. The acidic base of ceviche is so robust that too much of it can easily ruin the meal. When you've already added enough vinegar, keep the lemon or lime of your side dishes at a minimum or none at all.
Lastly, go for texture! Ceviche is soft and can easily melt in the mouth. You want to add heavier texture or crunch so you won't feel like you're eating mush.
10 Best Side Dishes To Serve With Ceviche
We listed here the top 10 side dishes you can serve with ceviche. From the easy-to-make side dishes and the traditional to more adventurous pairings, we enumerated them so you can give it a go as you make a seafood feast.
Jicama Coleslaw
Roasted Chili Peppers
Sweet Potatoes And Corn
Mango Salad
Tostadas, Tortilla Chips, Plantain Chips
Fresh Oysters
Edamame

 

Rice

 

Shrimp Broth Or Soups
Grilled Or Boiled Shrimp
1. Jicama Coleslaw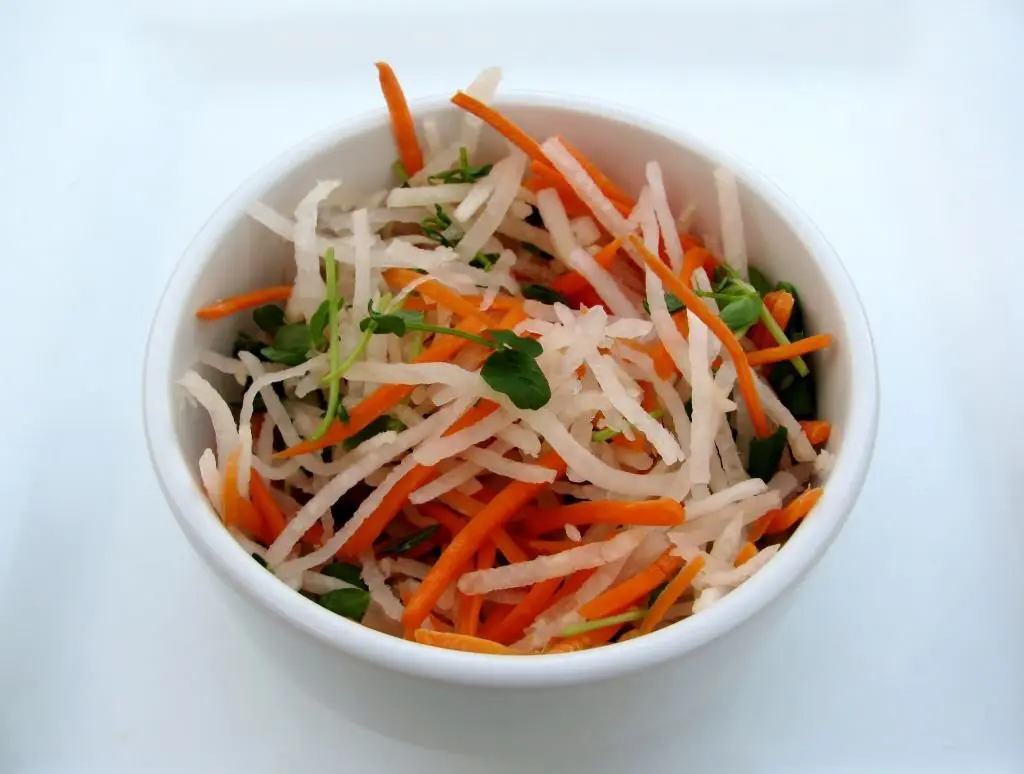 Ceviche goes well with a crunchy and refreshing jicama coleslaw.
If you're not familiar with jicama, it mainly grows in Mexico and parts of Central America. It tastes a bit like a potato and an apple but not as sweet. 
The basic steps include:
Julienne jicama, add lime juice, mix and let it stand for 20 minutes.

 

Reduce the acidity by draining the lime juice according to your taste.
You can add bell pepper, tomatoes, cilantro, onions, cucumber, and slices of orange.
Serve ceviche with jicama salad on tostada or crackers.

 
2. Roasted Chili Peppers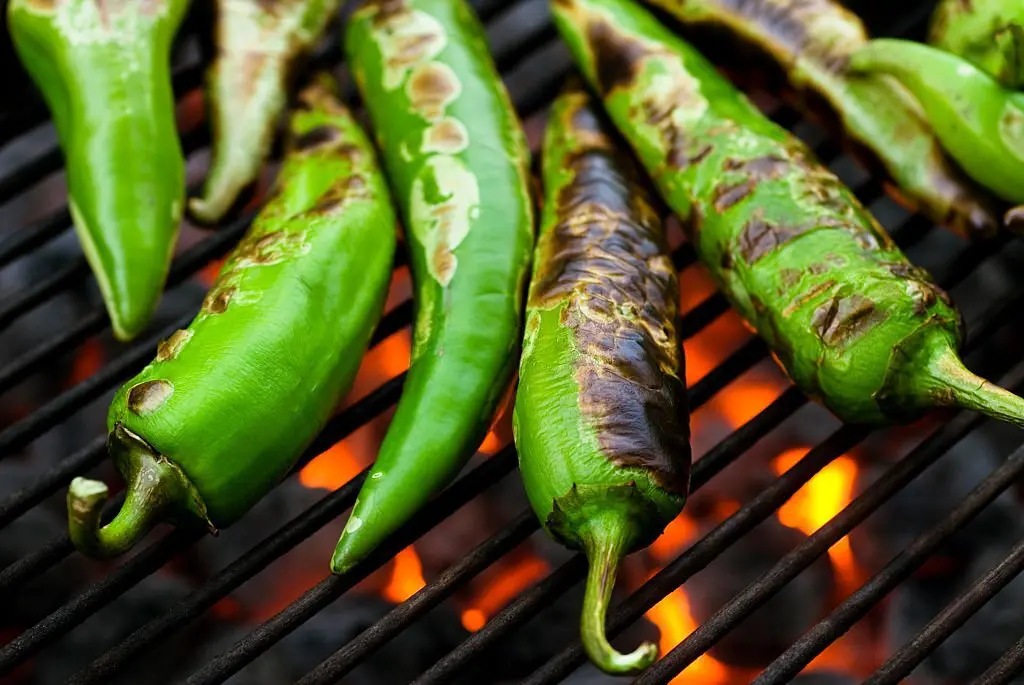 You can turn up the heat by pairing your ceviche with roasted chili peppers. This goes well with shrimp ceviche or fish ceviches like tilapia, tuna, or sea bass. 
To prepare your roasted chili peppers, here are some basic steps:
Choose hatch chile peppers, poblano, serrano chili peppers, or any chili pepper you can tolerate.
Roast them over an open fire until charred.
You can also roast them in an oven for 20 minutes at 400°F (200°C).
To serve, you can simply mix the roasted chili pepper with your ceviche or use a fried tortilla.
3. Sweet Potatoes and Corn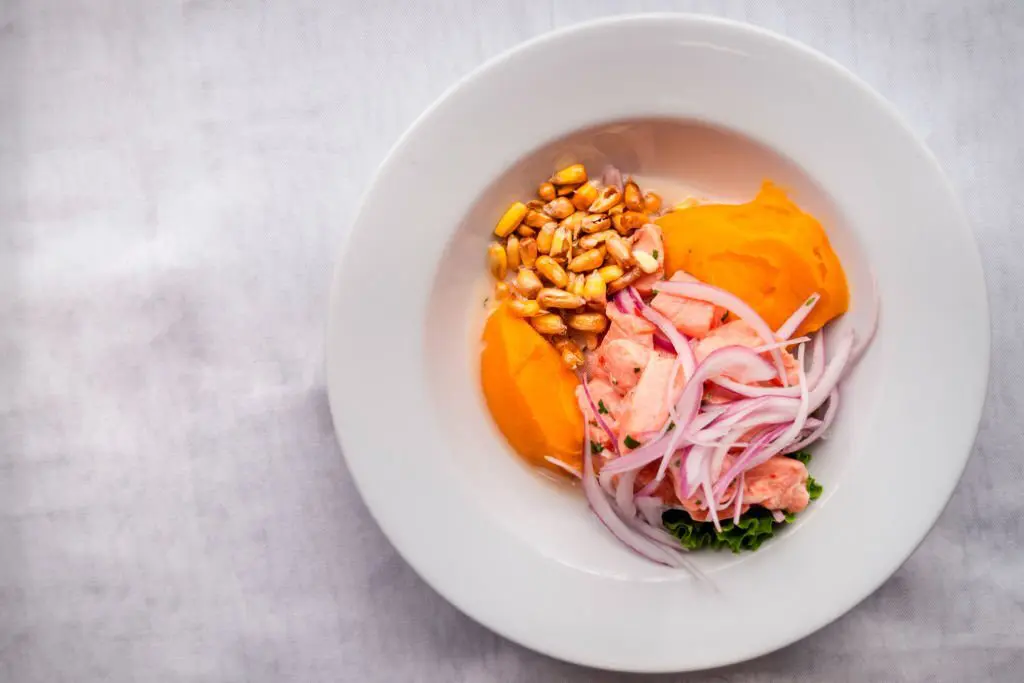 A classic Peruvian ceviche uses white fish like sea bass, flounder, or fluke with lime, sweet potato, and corn kernels. 
The sweetness of the "camote" or sweet potato and the sourness of lime perfectly blend with the white fish's freshness. 
The basic steps of the classic Peruvian ceviche include:
Steam or boil the sweet potato until fork tender and chop in large chunks.
Prepare your fish ceviche according to your taste.
Toast the corn kernel.
Serve it by topping lettuce leaves with a mound of ceviche, sweet potato, and corn.
4. Mango Salad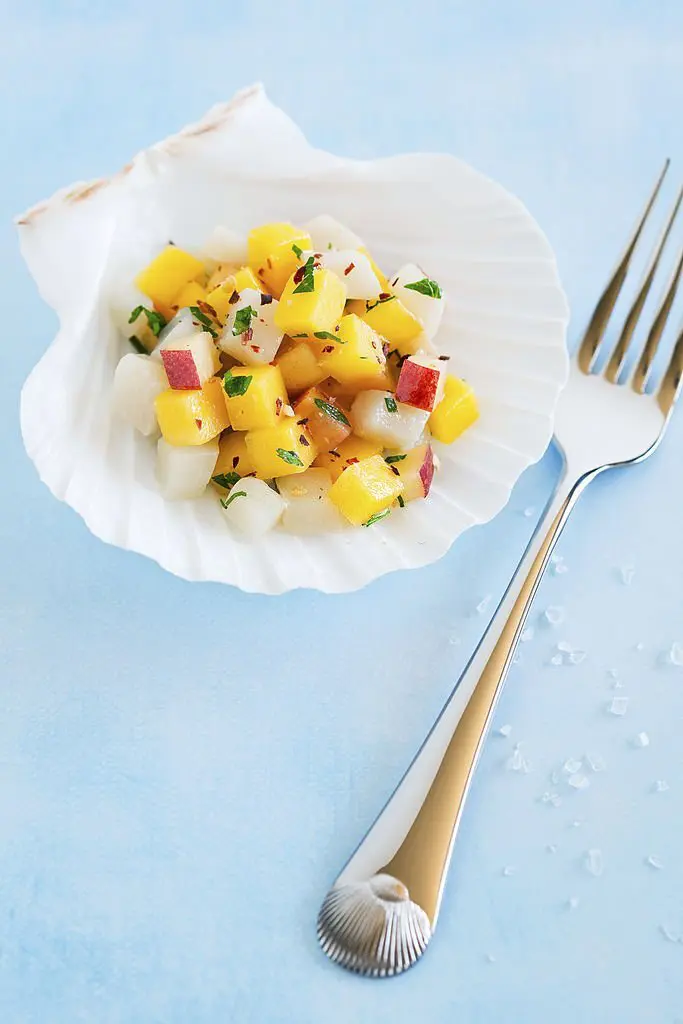 Pairing a tropical salad with ceviche will help elevate its refreshing and tangy taste. You can pair mango salad with fresh sea bass or red snapper ceviche. 
To make an easy mango salad ceviche:
Make your ceviche using lemon or lime juice.
Add a little orange juice, chopped onions, cilantro, sweet peppers, and fresh ripe mangoes. Mix the ingredients.
You can put it on top of tortillas, tostones, or plantain chips to serve.
5. Tostadas, Tortilla Chips, Plantain Chips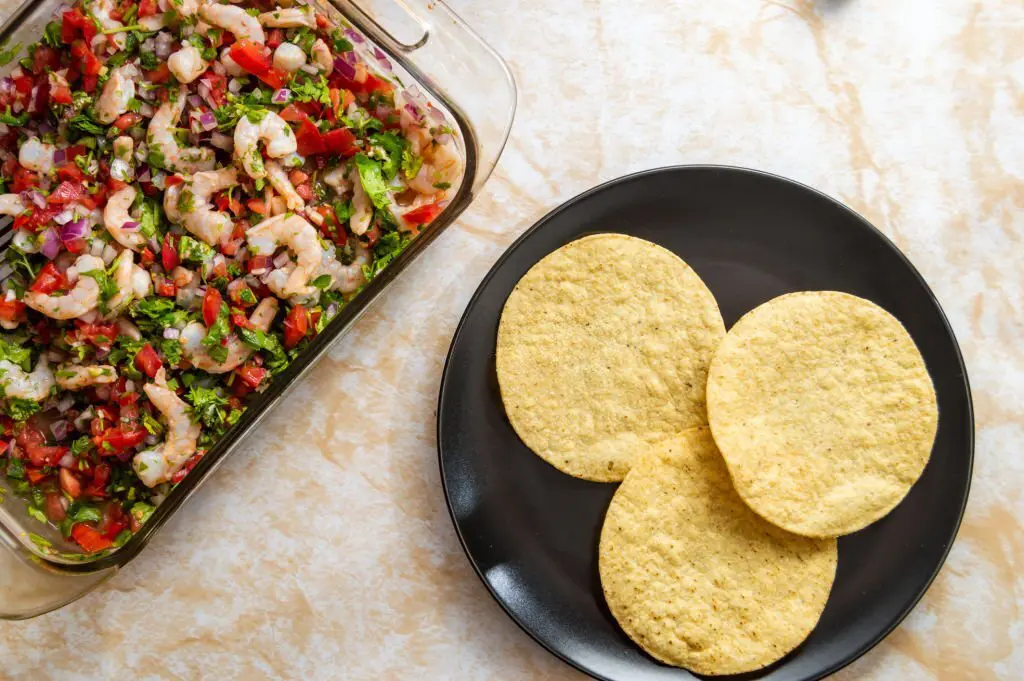 Texture is important when it comes to ceviche pairings. You need a vehicle to take ceviche from the bowl to your mouth. Your best bet for this is crunchy and textured chips and flat tortillas.
Some great options to consider:
Place a mound of ceviche on a tostada or crispy flat tortillas, either fried or toasted.

 

You can also use tortilla chips or plantain chips.
Enjoy shrimp ceviche with roasted bell peppers and avocado on saltine crackers.
6.
 

Fresh Oysters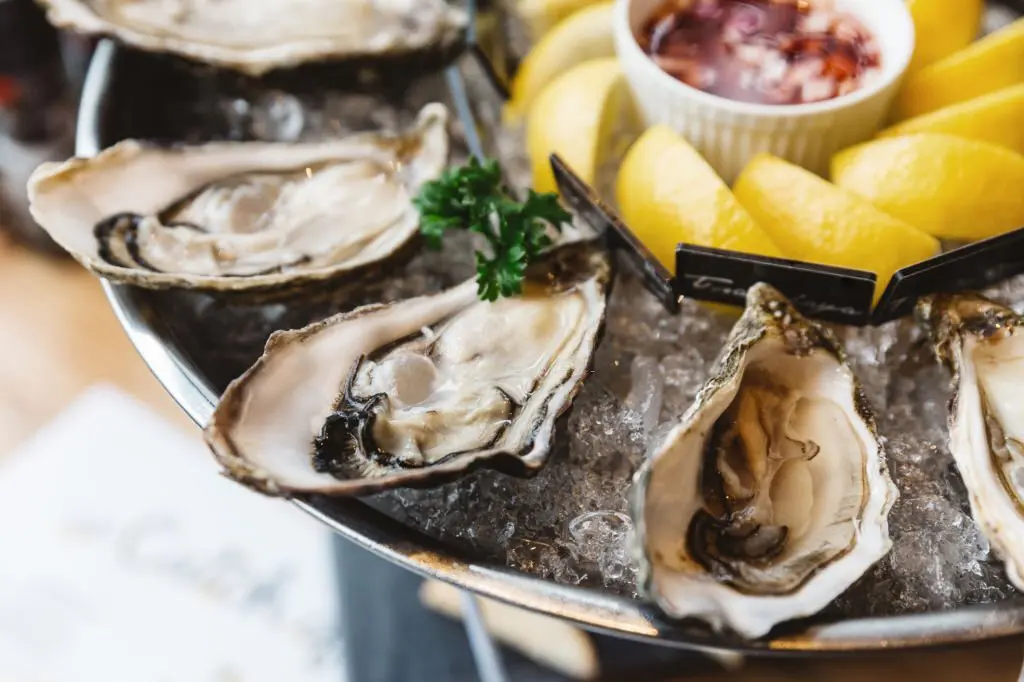 You'll have a seafood feast in your mouth once you pair fish ceviche with fresh oysters. You can use oysters of Bluepoints or Malpeque variety. 
To serve fresh oysters with ceviche:
Serve oysters on the half shell on crushed ice.
Spoon a mound of ceviche and top it on a chucked oyster.
Before eating, you can add a dash of lime juice or hot sauce to the oyster.
7. Edamame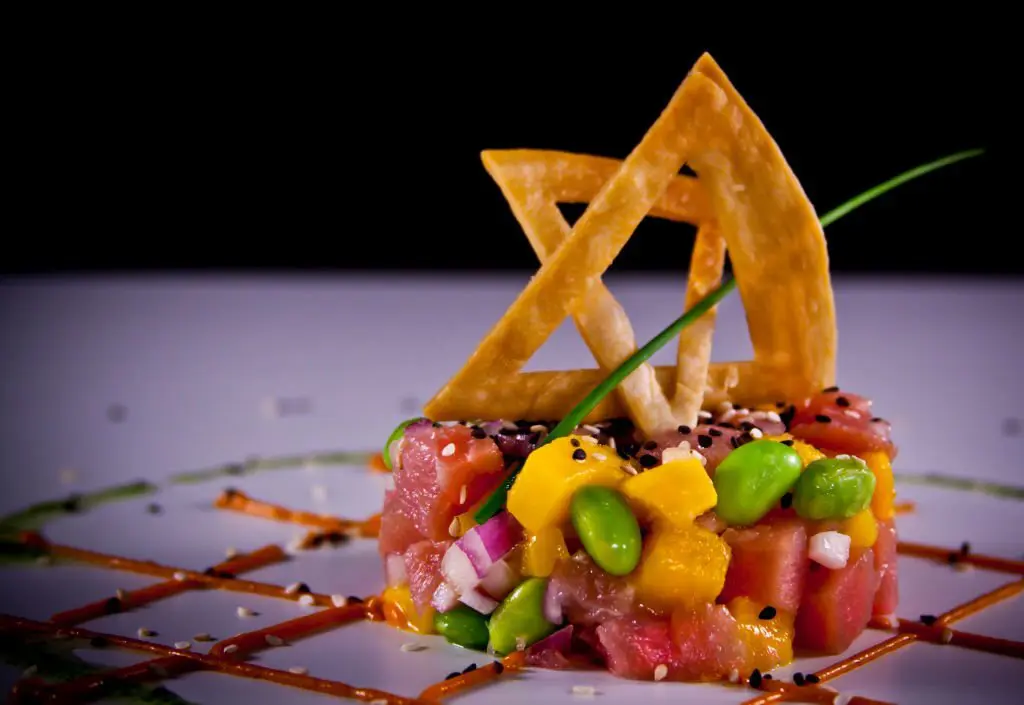 Edamame is young soybeans that are harvested before it ripens or hardens. They are a popular plant-based food in East Asia and are available shelled, fresh, or frozen in the pod.
To serve edamame with ceviche, here are some tips:
Edamame can be boiled, steamed, or blanched in saltwater.
You can serve edamame with its customary soy sauce to balance the acidity of ceviche.
Serve your ceviche with cooked edamame, tofu, red onions, cucumber, tomatoes, and avocado. Drizzle with olive oil and lemon juice. Pile them on crackers and enjoy.
8. Rice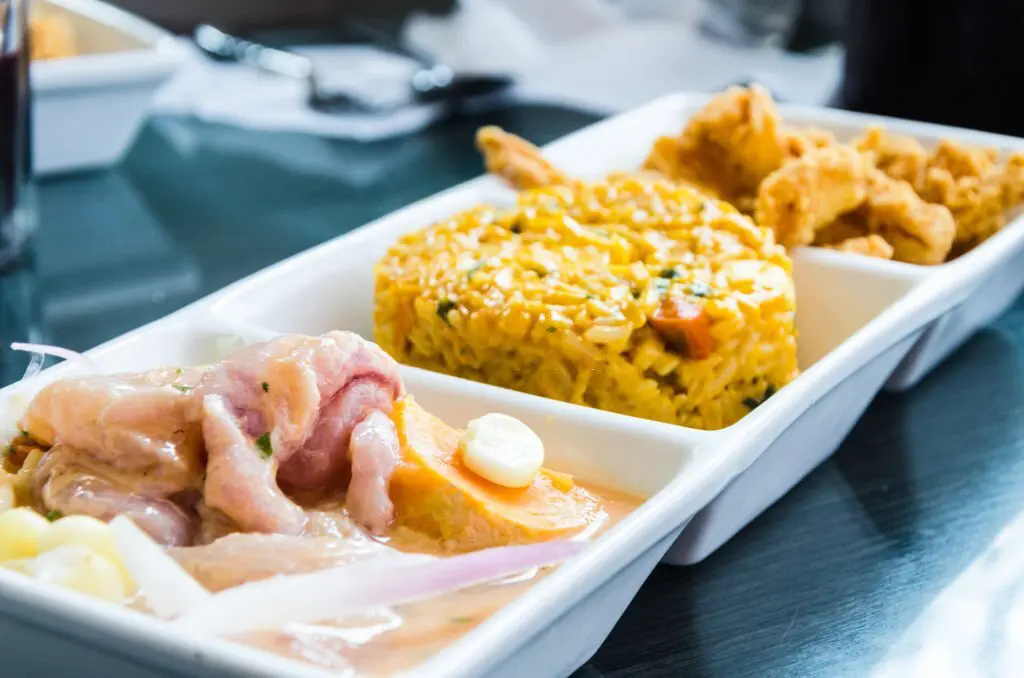 Rice is a nice side dish for ceviche because it's filling and goes well with any seafood dish. It's also very versatile, so you can mix it in with almost anything, and it will still taste good. 
To pair rice with ceviche, here are a few suggestions:
Make a Mexican ceviche rice bowl by using shrimp ceviche and adding tomatoes, onions, cilantro, jalapeno, and white rice in a bowl.

 

Try fish ceviche with scallops and toss it in cilantro rice or cauliflower rice.
You can try making mini crispy rice cakes and put the ceviche on top.
9. Broth Or Soup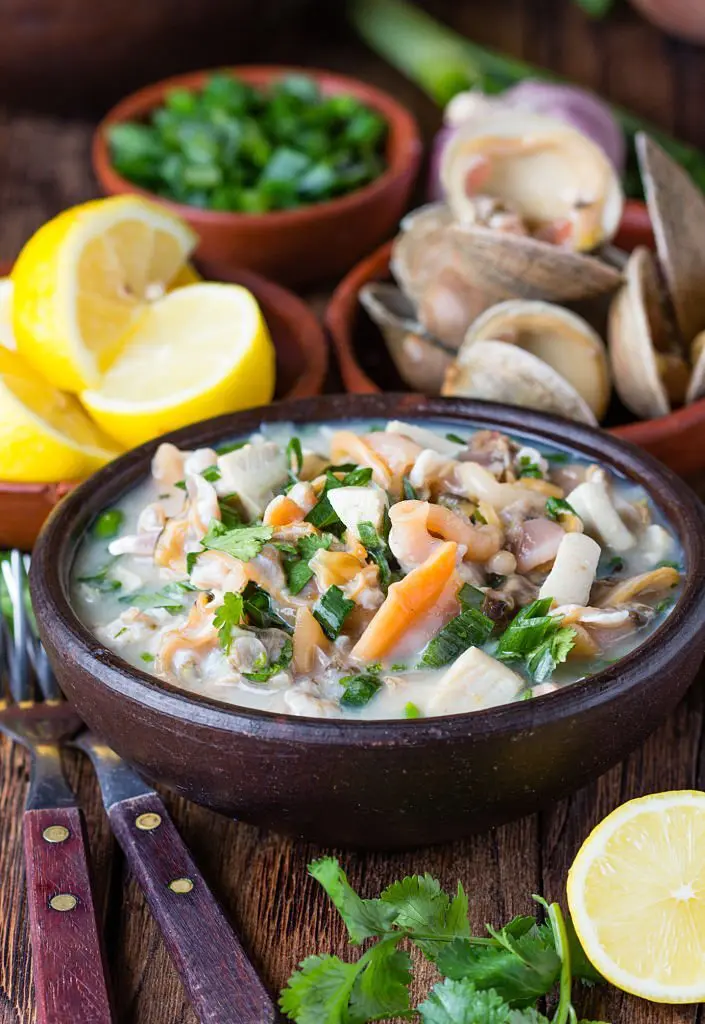 You might think that soups or broth may seem far-fetched with ceviche because of its texture profile. However, there are great soups that go well with seafood ceviche. 
When choosing a soup to pair with ceviche, go with something that's light and isn't too oily or flavorful. Go for a more neutral taste like shrimp or vegetable broth.
Here are a few serving suggestions:
Many fine dining restaurants serve cold potato and leek soup with scallop ceviche.
Ecuadorian shrimp ceviche is more like a cold soup with shrimp, lime, red onions, orange juice, tomato, and cilantro.
You can also enjoy shrimp or halibut ceviche with gazpacho or cold soup with tomato, bell peppers, olive oil, and onions.
10. Grilled or Boiled Shrimp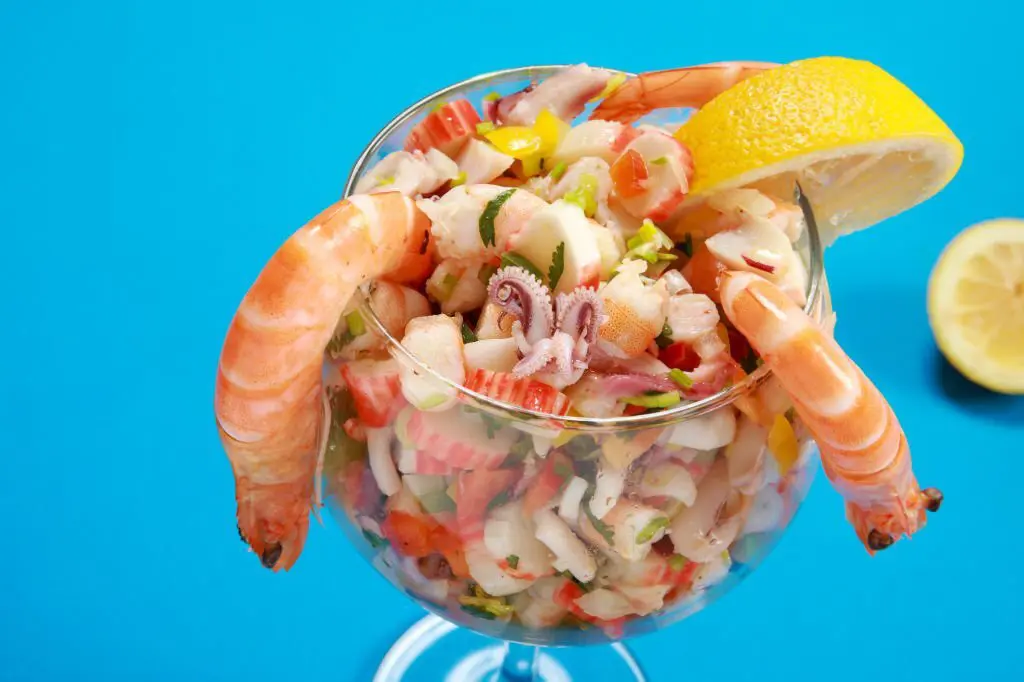 As long as you have fish ceviche, you can never go wrong with pairing it with shrimps. Anyone who enjoys seafood ceviche would most likely love shrimps as well. 
Shrimp has a sweet-savory and salty taste that goes well with any fish ceviche. When pairing cooked shrimp, make it simple and neutral. 
Here are more suggestions:
Before grilling, marinate your shrimp in lemon juice, butter, and seasonings.
You can also boil shrimps with the heads on and serve with ceviche on the side.
Make an easy grilled shrimp ceviche by chopping grilled shrimp and tossing it with halibut ceviche, orange slices, onions, cilantro, jicama, and guacamole. Serve them on tortilla chips or saltine crackers.
What To Serve With Ceviche – In Short
I hope you get to enjoy this list of ceviche side dishes! As they say, eating too much of the same thing can get boring. These side dishes are some of the best ways to pair ceviche with other flavors and textures. 
When choosing side dishes that go well with ceviche, remember to avoid repeating seafood, balance the acidity and flavors, and go for texture. 
The best way to find out which of these side dishes are great for you is to experiment and try them out. So, go ahead and enjoy!