Protein is considered one of the most essential nutrients as it is the building block of life. Every cell in our body is composed of protein.  When we think of protein-rich foods, meats usually come first to our minds. However, fruits and vegetables can also be good protein sources for those who don't eat meat for example. 
Plant protein has also been linked to several health benefits over animal protein. Studies show that plant-based diets can reduce weight and lower the risk for high blood pressure, stroke, cancer, and death compared with animal protein-based diets.1  
Here, we listed the top 10 fruits rich in protein that can aid your dietary needs.
1. Avocado
Avocado is a highly nutritious fruit rich in fiber, vitamins, and minerals like vitamin C and potassium.
It's also one of the fruits with the highest amount of protein. Avocado consists of 73% water, 8.5% carbohydrates and fibers, 15% fat, and 2% protein.
According to the USDA (US Department of Agriculture), raw avocado (all commercial varieties) contains 2g of protein in 100g serving. This amount is already equal to a cup of raw, leafy green vegetables.2 
When you puree a cup of avocado (230g), you get as high as 4.6g of protein. 
There are many ways to enjoy a serving of avocado. The simplest way is to slice them in half to open, season them with salt and pepper. You can also go with the classic guacamole, avocado toast, and salads. 
2. Guavas
Like the avocado, guavas are among the fruits with the most protein content. It boasts that it contains more protein than any other fruit.
Guavas contain a slightly higher protein content than avocados. A 100g of common raw guavas have 2.55g of protein, comparable to the protein content of 1oz of tofu.2
Because of their protein content, guavas can also aid in weight loss and help boost your metabolism. 
Read more: Best Vitamins and Minerals That Boosts Your Metabolism
It can also boost heart health, strengthen your immunity, and may help lower blood sugar levels. 
3. Apricots
Apricots are both big in flavor and nutrition. This fruit is low in fat but rich in other nutrients like beta-carotene and vitamin A, which promote better immunity and eye health.
Apricots also contain macronutrients like protein, fat, carbohydrate, and dietary fiber. Grab a bite of raw and ripe apricot, and you get to enjoy 1.4g of protein per 100g of apricots. 
However, if you want an extra punch of protein, go for dried apricots, as it contains 3.39g of protein content, higher than raw avocado or guavas. 
Read more: Best Dry Fruits To Lose Weight
4. Jackfruit
While many enjoy eating jackfruits as ripe and fresh, they can also be cooked or mixed with other flavors. 
Like tofu, jackfruits are versatile foods that can absorb the flavor of other foods or spices added with them. Vegans and vegetarians often use jackfruit as a meat substitute because it resembles a shredded meat texture.
Jackfruits are a great addition to your plant-based diet. For a fruit, jackfruits contain high protein, fiber, fat, and carbohydrates.
Per 100g serving of jackfruit, you enjoy 1.72g of protein. A 100g of frozen packed vegetarian jackfruit meatballs can provide 10g of protein.3 
5. Kiwi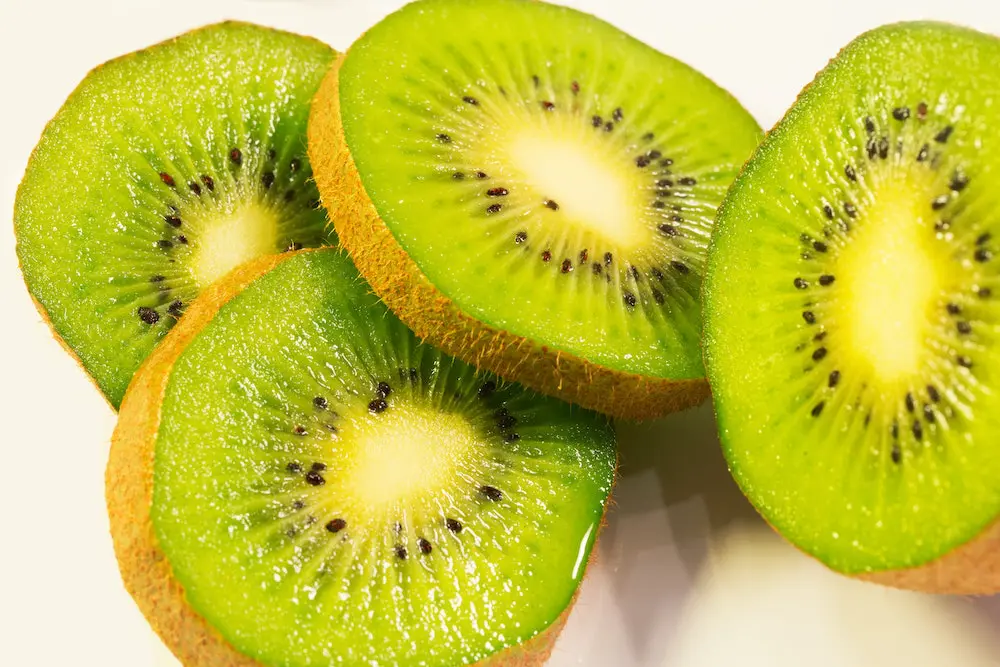 This small and fuzzy fruit is known for its high vitamin C content. However, it is also high in other nutrients such as protein, fiber, and antioxidants. 
A 100g serving of raw kiwi provides 1.06g of protein. According to USDA, this is higher than the protein content of 1 cup (244g) of unsweetened almond milk.4 
There are several ways to serve kiwi than simply removing the skin and slicing them for eating. 
You can turn it into a refreshing drink with ice, lime, mint, and sugar. You can also toss it into a blender for a healthy, green smoothie with spinach, banana, and yogurt for more protein. 
6. Grapefruit
Like any citrus fruits, grapefruits are known for their vitamin C and vitamin A content, boosting immunity. 
This sweet and sour tropical fruit also contains protein higher than other fruits. A 100g serving of raw grapefruit contains 0.77g. 
To maximize its health benefits, you can enjoy a whole grapefruit (308 g) fruit that contains 2.37g of protein, so much higher than a cup of green, leafy vegetables with 2g of protein.2 
7. Blackberries & Raspberries
Not all berries are good protein sources, but blackberries and raspberries stand out. You can eat them ripe and raw or add yogurt for a more protein-rich meal or snack.
A 100g serving of raw blackberries contains 1.39g of protein. Enjoy a cup (144g), and you get 2g of protein. 
Raspberries also have high protein content with 1.2g per 100g serving. A cup of raspberries (123g) has 1.48g of protein.
Read More: Best Fruits To Boost Your Metabolism
8. Oranges
Orange offers impressive health benefits such as boosting your immunity, improving your heart health, lowering your cholesterol, and giving you good skin. 
Aside from vitamin C and antioxidants, oranges contain protein higher than other fruits. 
A 100g serving of orange contains 0.91g of protein, while a whole piece of orange (around 140g) contains 1.27g of protein. A refreshing drink of 100g of orange juice contains 0.73g of protein.
9. Bananas
Banana has many varieties, so it's no wonder it's one of the most popular fruits worldwide. These fruits are rich in potassium, regulating blood pressure and promoting heart health.
A 100 g serving of banana contains 1.09g of protein. When you eat a large banana (around 8" or 136g), you get 1.48g of protein.
Opting for banana chips as snacks double their protein content to 2.3g per 100g serving.
10. Cherries
Cherries may be tiny but packed with nutrients that are good for you. It's rich in potassium, magnesium, and calcium. 
And for such a small fruit, it can provide protein higher than other fruits. A 100g serving of raw, sweet cherries contains 1.06g of protein, almost like a banana. 
When you eat a cup of cherry (154g), you get to consume 1.63g of protein. 
Fruits High In Protein | In Short
The Harvard School of Public Health encourages that it's best to get your protein from plants when possible.5 
They stated, "Plant-based sources of protein is a win for your health and the health of the planet."
While many vegetables and fruits contain generally smaller amounts of protein, you can mix and match to create a well-planned meatless diet that can provide all the nutrients you need. 
References: